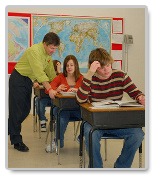 You need to prepare one more MLA format research paper, and you still have not learned the main principles of organizing MLA research papers. Well, it is time to do this, even though you find all those rules so annoying and pointless.

By the way, the main requirements for MLA format research papers are not that hard to learn. And if you want to know some specific rules, you can use MLA Handbook for Writers of Research Papers. Finally, your instructor is always there for you to explain all the vague points about MLA format research papers.

So, here are the basic rules you should keep in mind when writing MLA format research papers:

Margins: Set 1-inch margins all around in your MLA format research paper.

Spacing: Double-space your MLA format research paper, including the list of works cited and quotations.

Pagination: Page numbers should appear on every page of your MLA format research paper in the upper right-hand corner, starting from the first page.

Title page: MLA format research papers do not require a title page. Necessary information about the writer, his/her course and instructor comes on the first page. So, how should you organize this first page of your MLA format research paper?

At the top left-hand corner of the first page, type the following:
Your name;
The name of your instructor;
The name and number of your course;
The date of submission.

Then you have to double-space and place the title of your work in the center of the page.

See, these basic rules are quite easy to learn and remember. Our writers will also be glad to explain you the peculiarities of other research paper formats.


Custom written paper from us makes a difference in your academic career! Have your free plagiarism report included along with your completed research proposal! Do not pay for cheap help – choose quality services: meeting the deadlines, citing properly, attentive attitude! Buy your custom written paper from YourDissertation.com! Order now – get a discount when you return next time!

Purchasing through PayPal accepted.