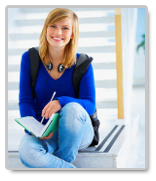 Do you know the favorite assignment of any English teacher? If your answer is a literary analysis essay, you are right! This is exactly why you should learn at least some basic rules of writing literary analysis papers.

In this article, we want to present some guidelines on how to prepare a good literary analysis paper, which will help you get started.

First, let us briefly explain you the gist of writing literary analysis papers. The main thing one should keep in mind is that this assignment is not about making a book review. Perhaps, your task is a little bit more complicated, since you need to introduce your interpretation of some work of literature, take a critical look at it.

The main rules of writing literary analysis essays

Rule #1
Do not use the past tense in your literary analysis essay. Everything should be written in the present tense. Example: "In "Animal Farm" by George Orwell, animals take control over the farm".

Rule #2
Avoid using "you" or "I" in your literary analysis essay. However, some teachers make an exception to this rule. Anyway, you should either ask your teacher or write in the third person.

Rule #3
We have already mentioned that a literary analysis paper has nothing to do with a book review. This is why you do not have to retell the plot, but rather make a strong thesis statement, which will indicate your argument.

Although retelling is not the main objective of writing the literary analysis paper, you still can use some facts and details from the book to back up your ideas.

Check our articles about essays on "The Heart of Darkness" and analytical essay writing.

Purchasing a custom written paper with us you are getting a FREE plagiarism report guaranteed along with the literature review ordered! Disregarding the complexity level – our prices still remain the most flexible and cheapest on the web! Writing service that makes a difference for you on the custom writing market: 24/7 help on your paper. Buying with us you save money and time, payment with PayPal is accepted.